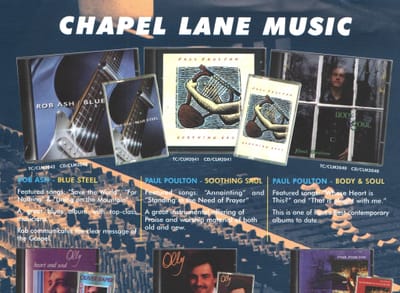 I came across this promotional flyer for the Chapel Lane record company from around 1997. Rob Ash's fine album Blue Steel is on there. Plus Soothing Saul and some Olly albums.
Chapel Lane had their own first class studio which was used by some excellent musicians.
The sad news I heard last week is that proprietor of Chapel Lane, Rob Andrews, died.
Rob was unique, he was humble and immediately made you feel at ease in his presence. He was a man with vision, a hard working man who quietly got on with the work he had been given.
So many people were encouraged and blessed by Rob's work without ever realising who Rob was. His vision to release music that glorified Christ into the world was realised by many artists and bands who recorded for Chapel Lane. Larry Norman, worked with Rob. Also Bryn Haworth, Shelia Walsh, Alwyn Wall and many others who became familiar names.
When I recorded there Rob never put time restrictions on my time in the studio. Artist Rob Ash, who recorded and engineered there said, Chapel Lane was "My favourite place to record, great memories of some great people".
Rob Andrews' work reached out across the world and still does because music recorded there is now on Spotify and other music platforms.
Rob Andrews was inspirational his work reached out and touched people around the world. Rob followed the course that God had planned for him.
We all have work to do and an allotted time in which to accomplish what God has sent us to do. For the time comes when we can not work: Rob followed in the footsteps of Jesus who said, "As long as it is day, we must do the works of him who sent me. Night is coming, when no one can work." (John 9:4).
Rob Andrews is an inspiration to us.