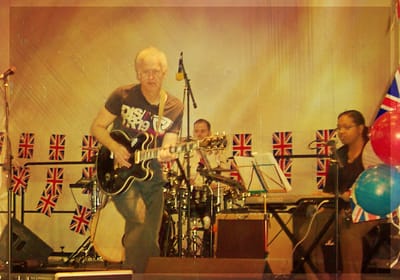 I continue to be occupied with music, live videos, writing a "Thought for the Day" and hosting Bible Studies on Zoom. This is proving productive work with many people coming to join us on Living Stones - Church on the internet. The facebook group is the best place to connect with us.
I will paste a "Thought for the Day" below.
The advent of digital distribution for music has been beneficial to many musicians. A number of my songs from previous years have been picked up as tracks for various projects. I'm so glad that even back in the 1990s we always took great care to get the music as pristine as possible. I recorded a number of albums at Chapel Lane studios that were released on the their label.
Chapel Lane has always had a top-flight studio with high-grade engineers and producers. On my Fallen People on a Fallen Planet album I worked closely with Rob Ash. I remember working hard with Rob on the tracks and Rob would be pleased to know that the work wasn't wasted. Rob has gone home to be with the Lord since then, but his love, laughter and heart lives on.
Thought for the Day
"The God who answers" (1 Kings 18:24).
LOOK AND SEE (Looking unto Jesus – Lesson 1)
Not all people have eyes that can see, not all have ears that can hear. When we harden our hearts our field of vision is affected: "Are your hearts hardened? Do you have eyes but fail to see, and ears but fail to hear?" (Mark 8:17-18).
When idols and gods infiltrate our lives, we can lose sight of the living God.
Anything that takes more of our time and attention than it truly deserves is capable of becoming an idol in our lives. And all such "golden calves" that we set up will hinder our progress and curtail our freedom. "They have mouths, but cannot speak, eyes, but cannot see… Those who make them will be like them, and so will all who trust in them" (Ps 115:5,8).
When trouble surrounded Micah the prophet, he cried out, "Woe is me!" (Mic 7:1). A lament that we may have all cried out at some point. Yet Micah was a prophet and knew the remedy for his ills: "I will look unto the LORD; I will wait for the God of my salvation: my God will hear me" (Mic 7:7).
This God is our God, he answers our prayers, in one way or another, he is attentive to our prayers when we pray them looking towards him.
During Solomon's prayer of dedication for the temple, he prayed that when someone prayed facing the temple, wherever they may be, their prayers would be heard – "Hear the supplications of your servant and of your people Israel when they pray toward this place. Hear from heaven" (2 Chron 6:21).
Generations later, Daniel found himself in Babylon, where a decree had been issued that all prayers should be directed towards King Darius. Daniel knew of Solomon's prayer of dedication, so he declined to pray towards the king and he opened the windows of his room in the direction of the temple. "When Daniel learned that the decree had been published, he went home to his upstairs room where the windows opened toward Jerusalem. Three times a day he got down on his knees and prayed" (Dan 6:10).
Daniel's prayers were answered, he was saved from the mouths of the lions, and his enemies were consumed instead.
We look to God because he answers, there is no other.
Elijah was outnumbered by 450 to 1. The prophets of Baal were in good voice and prepared to shout to their god and cut themselves in an attempt to get his attention. Elijah asked them to pray for fire to light the sacrificial burnt offering. "Call on the name of your god, and I will call on the name of the LORD. The god who answers by fire—he is God" 1 Ki 18:24).
The prophets of Baal danced around the altar calling on their god. "But there was no response, no one answered, no one paid attention" (1 Ki 18:29).
Idols and gods, that seem to offer us much in this world, fail to come up with the goods when we need help. There are temptations and distractions aimed at taking our eyes off the Lord. Other gods will lead us astray, idols will eat our time, images that we set up will leave us confused.
"In all thy ways acknowledge him, and he shall direct thy paths" (Prov 3:6).